Tigers are now dwindling in number, which is the reason why their popularity is constantly increasing. The term 'Tiger Safari' has come into popular use, and people love to watch these wild cats in their natural habitat. India is a prime destination for tiger-spotting, in addition to exclusive flora and fauna, which has attracted wildlife enthusiasts from all over the world to our country. This makes a tiger safari in India not restricted to merely spotting a tiger, but also focusing on other important aspects of wildlife that include bird watching, butterfly sighting, learning more about wildlife conservation and being more aware of our natural environment.
These are the eight best places where you can spot tigers in India –
1) Bandhavgarh National Park, Madhya Pradesh

Nestled amidst the Vindhayan Hills, and with the highest density of tigers in the region, this park has the highest chance of you spotting a tiger. The core area of the park is spread over 100 square kilometers and is home to more than 50 tigers. The park is known as 'The Land of The White Tiger', even though white tigers no longer exist here. Other animals in the park include Chital Deer, Sambar Deer, Barking Deer, Wild Boar, Nilgai Antelope, Four-horned Antelope, Indian Bison, Wild Dog, Leopard, Blue Bull, Indian Fox and Bear.

Bandhavgarh is also home to more than 250 species of birds like Plum-headed Parakeet, Orange-headed Thrush, Brown-headed Barbet, Coppersmith Barbet, Common Myna, Alexandrine Parakeet, Indian Grey Hornbill and Rock Pigeon. About 80 species of butterflies can be sighted along with a large number of reptiles and migratory bird like Sarus Crane (spotted in the monsoon season) in the national park.
2) Ranthambore National Park, Rajasthan
This place offers a safe shelter to the tigers there, and has the second highest number of tigers. The park is one of the few places where tigers can be seen basking or ambling in the sun. The reserve is spread over an area of 392 sq km and is divided into many zones. It also shelters a sizeable population of wildlife species like Leopards, Striped Hyenas, Sambar Deer, Chital, Nilgai, Common or Hanuman Langurs, Macaques, Jackals, Sloth Bears, Black Bucks, Rufous-tailed Hare, Indian Wild Boar, Indian Flying Foxes, Indian Foxes, Indian Gerbilles, Indian Mole Rats, Indian Porcupines, Long-eared Hedgehogs, Ratels, Small Indian Mongoose, Small Indian Civets and Common Mongoose.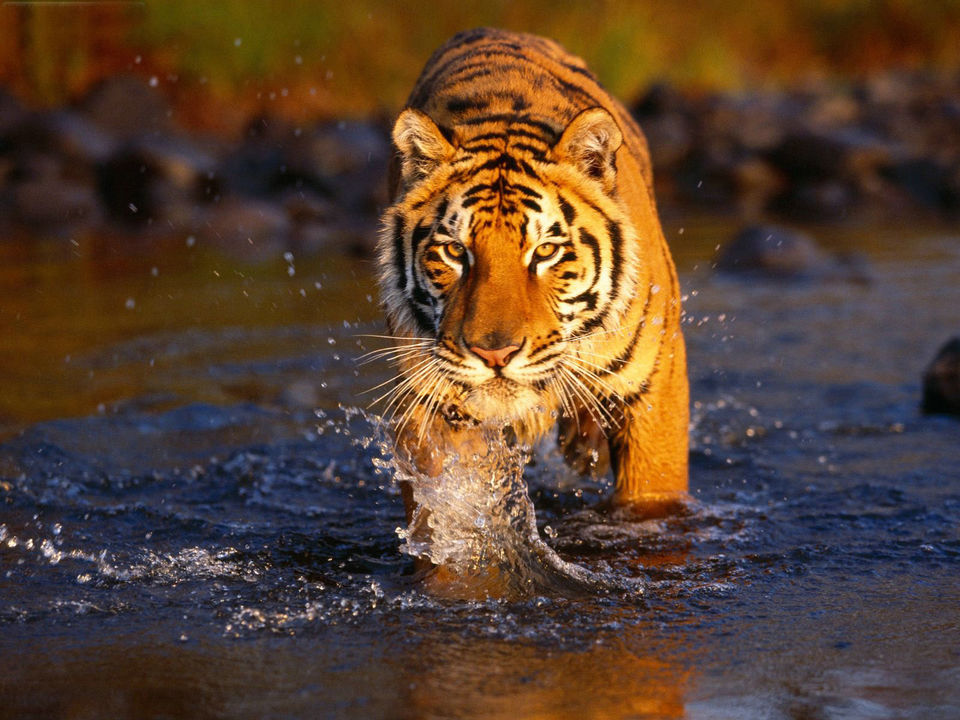 There are also about 272 species of birds that include Graylag Goose, Woodpeckers, Indian Gray Hornbills, Common Kingfishers, Bee Eaters, Cuckoos, Parakeets, Asian Palm Swift, Owl, Nightjars, Pigeon, Dove and Crakes.
3) Kanha National Park, Madhya Pradesh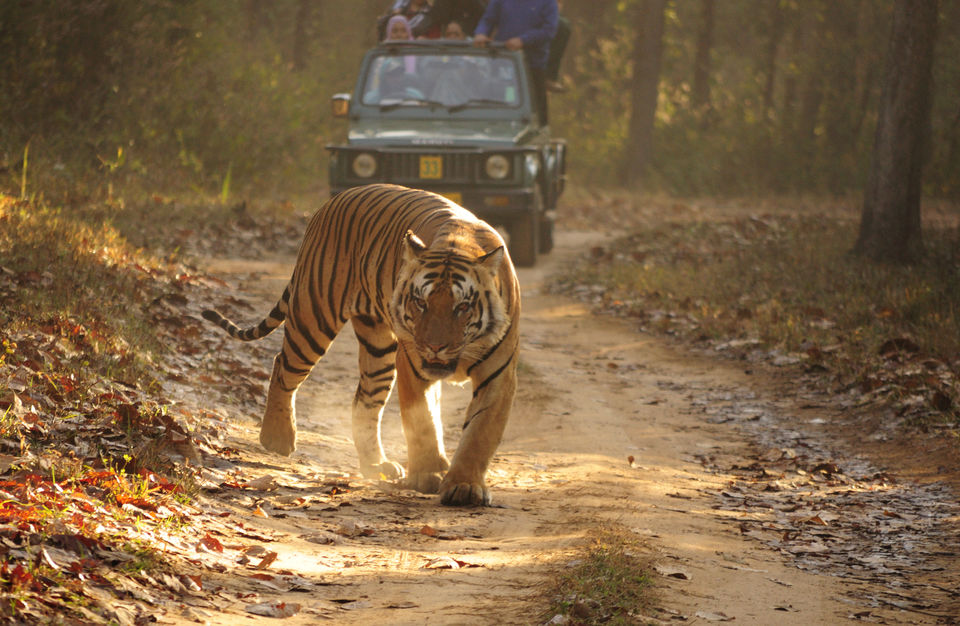 Reckoned amongst the best places to spot a tiger, Kanha is a safe and pristine forest with a decent population of the wild cats. This forest covered with Sal and other trees and interspersed by meadows.

Other than tigers, the pride of Kanha National Park is Swamp Deer or Hard Ground Barasingha. Indian Gaur, Spotted Deer, Sambar, Barking Deer and the Four-horned Deer are other commonly spotted animals in the national park. Reptiles like pythons, cobras, krait, rat snakes, vipers, keelbacks and grass snakes are also found and amphibians like turtles can be sighted every now and then in the reserve.
4) Jim Corbett National Park, Uttarakhand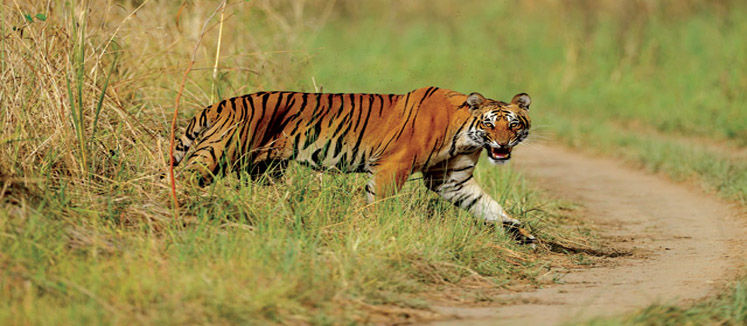 The oldest national park in India, Corbett covers an area of approximately 1288 sq km, and is divided into 5 major zones, namely, Dhikala, Jhirna, Bijrani, Durgadevi and Dhela. First established in 1936 as the Hailey National Park, and nestled in the foothills of the Himalayas, Corbett is also home to Leopards, Jungle Cats, Fishing Cats, Sloth Bears, Jackals, Bharal, Goral, Himalayan Tahr, Serow, Chital, Sambal and Barking Deer.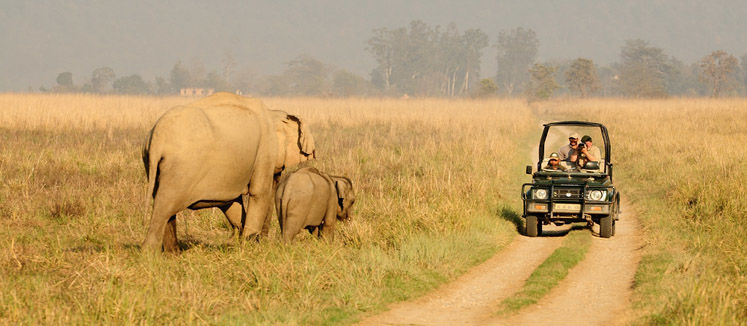 It is also known as "elephant park" due to its large number of wild elephants. Rich in biodiversity, Corbett houses about 488 species of plants, 500 species of resident and migratory birds and more than 50 species of wild animals. Here, you can also find watchtowers where you could spend hours observing the wildlife.
5) Tadoba National Park, Maharashtra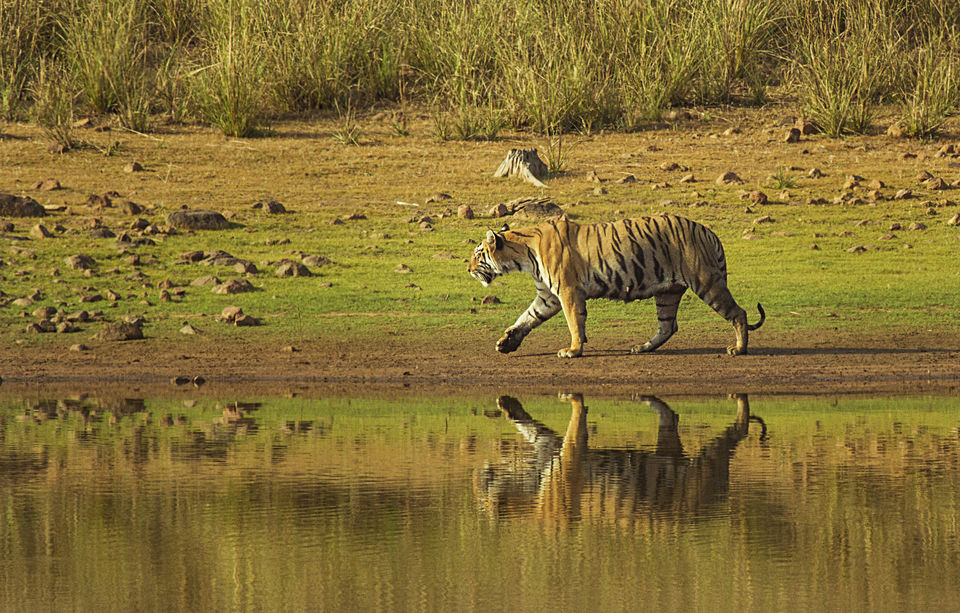 Situated in Chandrapur district of Maharashtra, and spread over an area of about 625 sq kms, this park was home to 65 tigers, in 2014. The best time to spot tigers in Tadoba is during the summer, when they spend time in Tadoba Lake and waterholes like Pandharpauni and Panchadhara.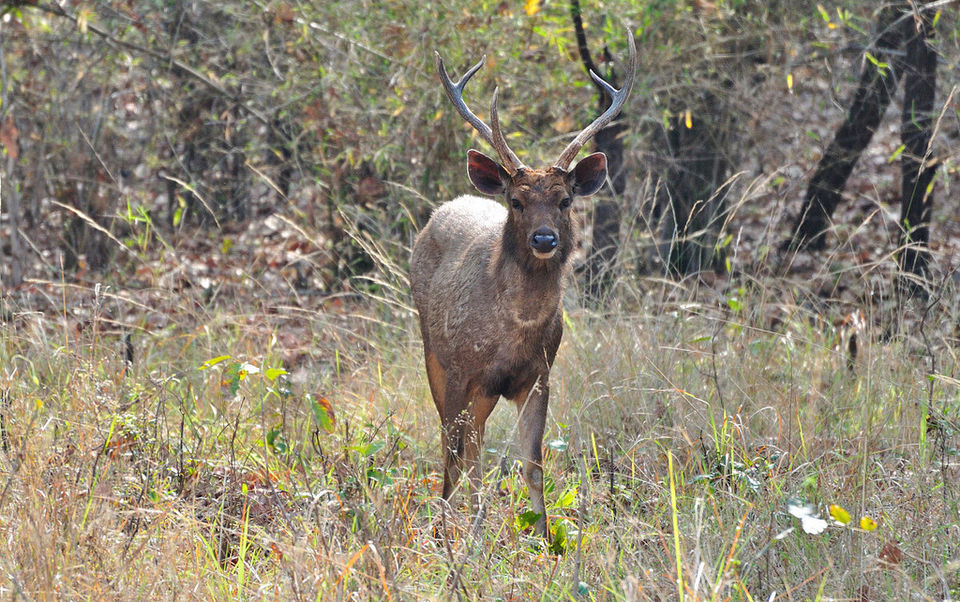 It is also home to mammals like Leopard, Sloth Bear, Gaur, Striped Hyena, Nilgai, Dhole, Small Indian Civet, Sambar, Spotted Deer, Barking Deer, Jungle Cat, Chital, and Four-horned Antelope. One has a good opportunity to sight 74 species of butterflies here along with 195 species of birds.
6) Satpura National Park, Madhya Pradesh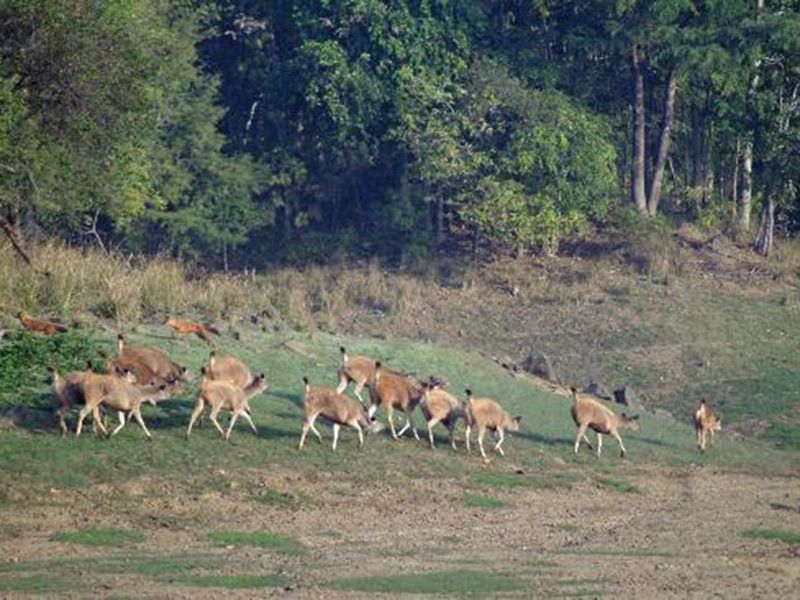 A part of a unique central highland ecosystem, Satpura is one of the favourite haunts of Bengal tigers. Spread over an area of about 524 sq km and is home to many wildlife species like Hyena, Leopards, Gaur, Sambar, Chital, Barking Deer, Chinkara, Mouse Deer, Wild Boars, Wild Dogs, Bears, Black Bucks, Foxes, Porcupines and Flying Squirrel.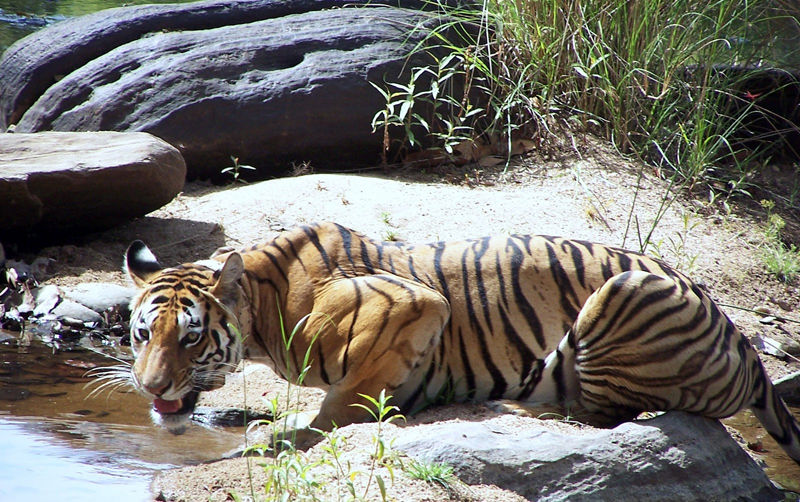 Summer is the best time to visit because these big cats can be spotted near the water holes and at River Sonbhadra, where they come for a swim. Satpura is also the only park where walking is permitted, allowing visitors to skip the jeep safari and set off on foot with a guide.
7) Nagarhole National Park, Karnataka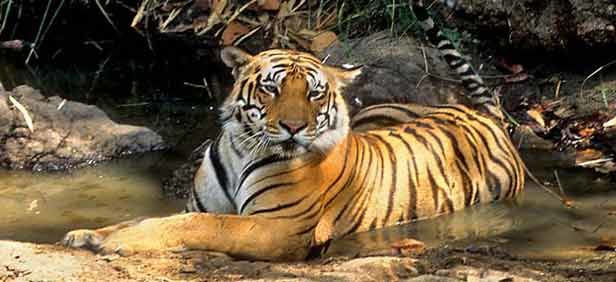 This scenic wildlife reserve is situated in Kodagu district of Karnataka and is spread over an area of about 643 sq kms. It is lesser known, and is one of the safest places for tigers.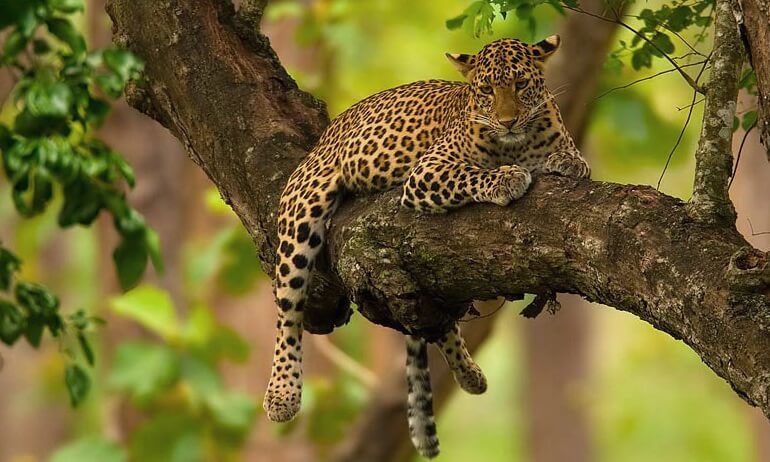 In addition to a large population of tigers, there is a large population of elephants here. Nagarhole along with Bandipur National Park, Mudumalai National Park and Wayanad Wildlife Sanctuary make for the largest protected area in South India covering 2183 sq kms of area in total. It is perfect for bird-watchers also, with about 270 bird species dwelling here.
8) Periyar National Park, Kerala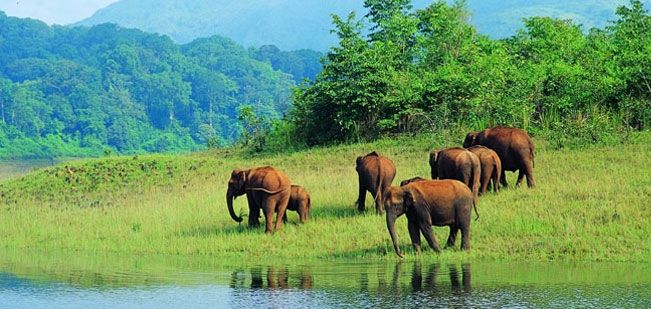 Situated in Idukki and Pathanamittha districts of Kerala, Periyar is popular for its rich biodiversity and absolutely scenic location. According to 2013 statistics, there are close to 40 tigers in this national park. The Tiger Trail here is popular, consisting of 5 visitors and 5 guides with armed guards, where you will get to hear the stories from former poachers.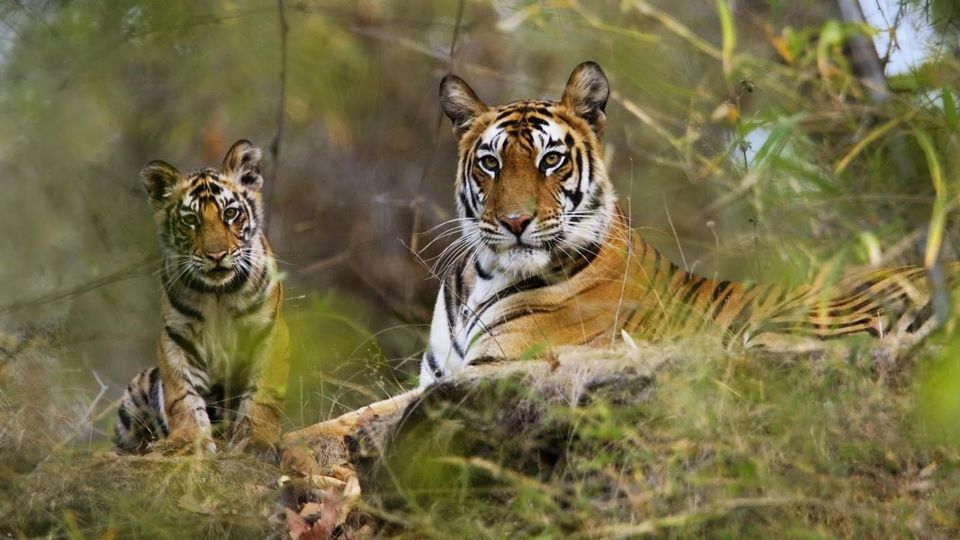 Visitors of Periyar have the option of taking a boat ride, going on a nature walk, patrolling the jungle and exploring the area on a bullock cart. Covering 305 sq kms of area, Periyar is one of the most famous national parks in Kerala. There are about 35 species of mammals, 45 species of reptiles and more than 260 species of birds in the park. Apart from tiger and elephants, Gaur, Sambar, Wild Pig, Travancore Flying Squirrel, Jungle Cat, Indian Giant Squirrel, Sloth Bear, Nilgiri Tahr, Lion-Tailed Macaque, Nilgiri Langur, Salim Ali's Fruit Bat, Stripe-necked Mongoose, and Nilgiri Marten are the main inhabitants of the wildlife reserve.